Video created by Frank's daughter (who is new at video creation).
NEW INDEX! Download the complete INDEX of the Titan. It lists every chapter in the book with corresponding page numbers.
Frank Viola's Titan Collectible. Contains over 385,000 words of some of Frank's best and most controversial writings that have never been printed before. This is the detailed follow-up to Pagan Christianity (2008) by Viola and Barna.
Limited Edition Souvenir and Keepsake. Profits are going to the poor, to hurricane victims, a couple who is raising money to treat a sick wife, and new projects to advance the kingdom of God.
Here are some of the needs and struggles the book addresses and offers solutions for:
Embracing a view of the baptism of the Holy Spirit that's neither the Pentecostal view (tongues is the evidence) nor the cessationist view (the gifts of tongues no longer exists).
How to deal with worry and stress in ways that actually work.
For those in Christian community (or desire to be in one). How to handle the countless problems that will come up, which detract you and the others from experiencing the centrality and fullness of Christ.
If you are in a leadership role (or plan to be) and want to avoid the numerous pitfalls that come with leadership: How to lead with impact and glorify Christ in the process.
The problem of lacking mentors in the deeper things of God.
Struggling with spiritual loneliness and lack of community.
Struggling to understand what the kingdom of God is exactly, and how to live in it now.
Lacking an understanding of the Bible and knowing how to read it with profit.
Opening the Bible and only seeing "blank" pages.
Struggling with distractions and the influences of the world.
Struggling with compromising with the world's false narratives because of fear of persecution, being labeled haters, bigots, intolerant, closed-minded, idiots, and losing friends.
Struggling to find your purpose in the world.
Struggling with time management.
Understanding how Christ-centered community works and the problems associated with it.
Understanding what the Bible teaches about leadership and discipleship, exposing the false ideas around both issues.
How to have a deeper experience of the Holy Spirit and His power and gifts, without getting wacked out or going off the rails into unscriptural ideas and experiences.
Printed in the USA.
Dimensions: Over 8″ x 11″
Cover: Hardcover
Pages: 800
Weight: Very Heavy
Sown binding
Two color text (black and green)
Bob Adams unboxes the mighty Titan (video below)
REMEMBER THE TITAN
Here's a photo of Dr. Gilbert Bilezikian reading the Titan. Gilbert is 90 years old. (He's the author of the seminal "Community 101" and co-founder of Willow Creek back in the day.)
A person can never be too old to read the Titan.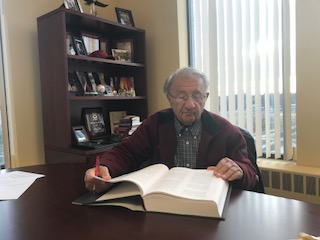 Frequently Asked Questions (FAQ)
Question: Why will there only be a limited number of copies available?
Answer: Beyond the immense value of the exclusive content, the book was created for people who appreciate Frank's work on the deeper things of God, knowing Christ, and radical church restoration. It's something special that they can cherish as a keepsake and souvenir. It's also very expensive to create and print.
The good news is that with rare items like this, people end up buying extra copies and selling them on eBay later on. So they do tend to stay in circulation; but people usually raise the price very high due to the rarity of the item.
Question: Does any of the content repeat any of the chapters in Frank's print books?
Answer: No. Some of the chapters appeared in Frank's digital books, but those have been out of circulation for years. These are NOT his "scrap" writings. He considers many of the chapters to be some of the best work he's ever done to date.
Every content-based blog post that Frank has written from 2008-2016 are in the book. There are also many chapters that have never been published anywhere before.
Question: Why are you calling this a collectible?
Answer from Frank: I have friends who collect antique automobiles. I have others who collect coins. I used to collect baseball cards. Today, I enjoy collecting things that I have an emotional and spiritual connection to. For that reason, I own every book printed by my key mentors (none of whom are alive today).
To me, there's a certain ownership joy in holding something tangible, like a book. That joy is being lost in the digital world that we all live in today.
Our goal was to create an over-sized, gorgeous book that would be both valuable and rare. A keepsake, if you please.
Some have said the book is worth $400. The cost is far less than that, but the shipping fees to some countries are pretty high. Anyway, we want to bless others who are on the deeper journey with something they that they can hold and keep which will be timeless, cosmetically appealing, and inspiring.
Question: Why is the book expensive? I have no problem with authors making an income from their hard work, but I'm curious if there are charitable causes you will be giving some of the profits to?
The book is extremely expensive to produce because it's oversized (over 8.5 x 11 in size), contains 800 pages, uses two colors on the interior, and has a hardcover. Because we're not printing a large quantity, the price to produce each copy is astronomical.
Profits from the book will go toward these things: (1) helping some of the poor individuals Frank knows and is helping (2) helping some of the people he knows who are seriously ill and need help with medical expenses (3) helping victims of hurricane Harvey and (4) helping spread and advance the gospel of the kingdom (we are exploring various avenues for doing this before the Lord.)
Question: How will the Titan benefit me? And who is it for exactly? I want to know why I should invest in this book. So much of Frank's stuff is free, so why get it?
Answer: First, only about 30% can be found on Frank's blog (though you have to dig deep to find it all). The rest of the material in the book is NOT available anywhere else. The content doesn't appear in Frank's published print books either. So this book will be new, even for his regular readers.
Here is what it covers and who it's for (Frank wrote these):
Serious Reasons
* It's for those who have read some (or all) of my other works and want some of my best writings that have never been printed, which go deeper into the themes.
* It's for those who are part of a Christian community or plan to be in one. It includes my memoir about church and body life with dozens of lessons learned. It also addresses the dangers and the common problems, along with how to deal with them based on my experience in body life since 1988. It's more detailed in this regard than any of my other works.
* It presents a fresh look at God's eternal purpose and driving passion through the sections on "Magnificent Obsession" and "Rethinking the Mission."
* It's for any Christian who knows in their hearts, "There has to be more than this" (meaning, what they've been taught and what they've seen).
* It's for those who would like my controversial book Straight Talk to Pastors, which was taken out of print, has been professionally edited and exclusively appears in the Titan.
* It's for those who would like my critique of John MacArthur's Strange Fire,  which was taken out of print, has been professionally edited and exclusively appears in the Titan.
* It's for those who desire to get a fresh perspective on Christ and His kingdom that will warm the heart, edify the spirit, and inspire the soul.
* It's for those who want all of my unpublished writings in one place. The Table of Contents gives readers an easy way to navigate the content.
* It's for those who wish to contribute toward helping some of the poor and sick people we are trying to help (more on this below).
Humorous Reasons
* It's for those who are looking for an excuse to buy a new coffee table (there's a good chance that the Titan will break it immediately upon placement).
* It's for those seeking a blunt force object for a time of need (who needs guns when you have a copy of the Titan on hand).
* It's for those who are looking for a heavy, unmovable door stopper.
* It's for those who own fireplaces and are looking for good kindling material that will burn for at least 8 hours (the 800 pages are constructed in such a way that they roast slowly).
* It's for both my fans who desire to collect all my work. (My mother being one of them.)
Question: I know Frank has a book coming out in 2018 on the kingdom, but does the Titan go into his take on the kingdom of God at all?
Answer: Yes, it does. Frank's book on the kingdom of God is due to release the Summer of 2018. But that's a regular book (probably 300 pages or so). The Titan is 800 pages and contains exclusive content on the kingdom. The kingdom is mentioned over 200 times in the Titan. So it contains a great deal of material on that subject.
Question: I've been on Frank's email list for seven years and he has been so generous with his blog posts, articles, so many free books, the free podcast – it's all transformed my life. His book with Barna, Pagan Christianity, rocked my world. My wife was changed by From Eternity to Here, and I have many friends who were transformed by God's Favorite Place on Earth. Does the new Titan delve deeper into the themes of these books?
Answer: Yes, absolutely. And a lot of it is more edgy as well. Frank's publishers refused to publish some of the chapters in the Titan. They said, "We can't put that in a book! It's too controversial. It will upset too many Christians." Well, we're publishing them all in the Titan.
Question: I lost my job recently and really can't afford it right now. Do you have any ideas?
Answer: Most people who can't afford it have told family members and friends that they would like the Titan as a Christmas present (or birthday present). So others have pre-ordered it for them as a gift.
Question: The Titan reminds me of music bands that release new albums of never-before-released songs. This is similar, right?
Answer: Yep. Perfect analogy. Although the content in the Titan is just as valuable (or more) than Frank's published print books.
Question: I heard that the Titan is more radical than Pagan Christianity. Is that true?
Answer: That depends on what you regard as "radical," but we agree with that statement. A number of the chapters in the book were rejected by Frank's publishers because they were too flammable.
The Titan is a detailed follow-up to Pagan Christianity.
Question: Can I get the Titan on Amazon, B&N, or another bookstore?
No. It's only available on this page.
Question: I assume this enormous book won't be on audio, but just thought I'd ask.
Answer: Correct. With over 380,000 words, it would take months just to record, and a ridiculous amount of cash to produce. So it's just not feasible.
Question: I read an excerpt of Frank's memoir on church somewhere. Will the full memoir be included in this book?
Answer: Yes. Frank's complete memoir of how and why he left the institutional form of church and what he found on the other side with respect to community is included in the book.
Question: Can a person order more than one copy? Can they order other copies as gifts for friends and family?
Answer: Yes. People can order as many copies they want. It makes a beautiful and valuable gift.
Question: I assume this book won't be on Kindle or Nook since it's a premium collectible item, correct? 
Answer: That's correct.
***
NEW INDEX! Download the complete INDEX of the Titan. It lists every chapter in the book with corresponding page numbers.
Alas, the Titan is now gone, no longer for sale.
We reserved a small number of copies for Frank's live events and as future gifts.
In the meantime, you can join the "I Want a Titan" form below. If a Titan becomes available again, we'll let you know.
Thanks for your interest!