Recently I had time to spend with the HCSB Study Bible
. I own many Study Bibles. But this new contribution has quickly become a favorite.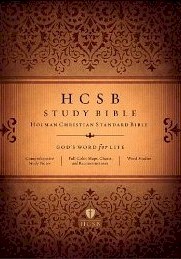 Here are some reasons why:
The translation is clear and readable. I liked how the compilers translated many of the texts. While there is no perfect translation, the HSCB scores high.
The commentary notes are often helpful. I compared the commentary in this Bible with the commentary in a few other Study Bibles, and the HSCB is far more helpful in the area of historical background and insight on some texts.  It also did a good job in shedding light on some difficult texts, offering various viewpoints. However, for other texts, I didn't like that they just presented only one view and didn't bring in contrary views. The scourge of all Study Bibles  is that you are only getting one person or team's interpretation of the text. There's not enough space to present all alternative interpretations. So keep that in mind whenever you read the comments in a Study Bible.
The cross-references are unique in that there are two levels. One level references to other Biblical texts; the other level references Old Testament texts and Greek/Hebrew word meanings. Both are very easy to spot as this Bible uses colors and graphics in an elegant way.
The eye-candy is peerless. Cosmetically, it's the most beautiful Bible I own. The colors work perfectly, making the text, the cross-references, and the notes a delight to read.
Every Old Testament quote is bolded, making it easy to spot them within the text. This is going to come in handy for my next project. But it just underscores how often the New Testament ("Second Testament") draws from the Old Testament ("First Testament").
The study notes are informative. The study notes are an addition to the verse-by-verse commentary. They are also written by various scholars. So it's a nice mix.
The illustrations, maps, photos, timelines, and charts are powerful. These are not only valuable, but they are very well crafted. Again, this Bible gets an A+ in its use of color, image, and elegance.
Word studies are peppered throughout the pages. Beyond the commentary, it contains helpful Greek and Hebrew word studies in easy-to-spot colored text boxes.
In short, I highly recommend this Bible to every student of Scripture. If you want an extra Bible in your library, make it this one. It would also make a beautiful gift for someone.
Click below to preview the video and order the Bible at a discount:
HCSB Study Bible: Hardcover Edition
HCSB Study Bible: Simulated Leather
HCSB Study Bible: Genuine Leather Edition