In 1979, I attended my first Christian conference. I was just a young kid at the time. The conference was called Jesus '79, and I still remember some of the speakers (Tony Campolo was one of them).
I've been to countless Christian conferences since as an attendee and then as a speaker.
To be frank (and I am

), in all the years that I've attended Christian conferences, the most appealing part for me was in getting to know the people outside of scheduled sessions. Fellowship, connecting, building new relationships, and networking were the highlights.
With few exceptions, the speaking generally didn't impress me. Only those speakers who knew how to unveil Jesus Christ made an impression.
I've often said that the difference between good preachers and great preachers is that good preachers leave you saying, "What an excellent sermon," while great preachers leave you saying, "Wow, what a Christ!"
Fast forward to five years ago.
In 2007, some of my close friends and I were persuaded by a number of people to begin holding a different kind of conference. And so Threshold was born. Our first event launched in 2009.
Threshold isn't really a conference in the traditional sense. It's more of an equipping-connecting event.
At Threshold, there is just as much time given for fellowship and connecting as there is for spoken ministry. In addition, all spoken ministry seeks to unveil the glories of the Lord Jesus Christ, and each message contains practical exercises that are carried out in small groups.
(Note: we won't be holding a Threshold 2012, but we desire to have another one in the future, God willing.)
One of the young men who attended last year's Threshold wrote about his experience, comparing it to a Reformed conference that he attended the same year.
In his comparison, he uncovers insights into the spiritual life that I personally find remarkable. I'm reposting his report here because I think it will help us all to rethink Christian conferences in general.
We by no means have our event perfected. We've made many adjustments from our first Threshold, and each year gets better than the previous one. More importantly, we're open for new ideas for improvement.
Here's his report:
I've been to two conferences this year. I was very excited about going to both. I deeply appreciate good preaching and teaching and neither of the conferences disappointed in that regard. Yet, there were some drastic differences between the two events. What follows is an observation of those differences.
The first one I attended was the Ligonier conference in Orlando. It was hosted by First Baptist Church of Orlando, a massive complex with ample seating and extensive facilities for eating, a bookstore, plenty of parking and a state of the art multimedia system.
The sheer size and capability of the place was impressive. The speakers preached on the topic of Light and Heat. It was mostly a tribute of sorts to the ministry of John Piper (Desiring God) and R.C. Sproul (Ligonier).
It was really cool to be able to sit and listen to these men. Their teaching has had a profound impact on me over the years. When I left that conference, I had a deeper sense of the Holiness of God. His marvelous "otherness" left me feeling wholly unworthy of Him. This, I think is very true and a good thing.
What I realize now as I look back on it is that I also felt very distant from our great and Holy God. It was as though I felt like He could not be defiled by my sinful, fallen, human hands. So, while I praised Him for His grace in electing and saving me, I was still left with a sense of great distance between He and I.
The conference I was at over this past weekend was entirely different. It was the Threshold 2011 Missional Organic Church conference. It was held in a quaint little conference room in a Holiday Inn hotel.

The hosts had to cut off registration months ago because they had filled to capacity. This was a good and a bad thing. Good because it kept costs down (this conference was completely free to attend), but bad because there were many who were left out and unable to come because of space limitations. The room where we gathered was less than a quarter the size of the bookstore at the former conference. (Threshold is intentionally small, holding no more than 300 people.)
The Threshold conference was unlike any I had ever been to. The focus of the conference was obviously to build relationships. The speakers would share what the Lord had led them to prepare, and then they gave out an assignment of sorts that we would then share with those at our table.
Yes, we sat at tables of no more than eight people rather than in stadium style seating in rows. This gave us an opportunity to get to know the others at our table and see what Christ has been doing in their life.
This time led right into a six hour break. This time was spent having lunch together and spending the afternoon sharing more stories and hanging out with folks who were strangers only a few hours ago and were quickly becoming much more like family.
In contrast, at the Ligonier conference the only conversations I had were about the weather, our travel to Orlando, or the speakers at the conference. Nothing any deeper than that.
If the relational aspect of the Threshold conference were not enough, the teaching was phenomenally different, and in my opinion much better. It seemed as though all these speakers intended to do was display the magnificence of Christ and lead us to embrace our unity with Him. To yearn for Him, search for Him, and feast on Him as never before.
This reconciliation between myself and Christ was much more than just sensing a closeness to Him. I realized the powerful truth that Christ is IN me and I am IN Him. Words cannot express.
Another major difference between the two conferences was the accessibility of the speakers. At the first event the speakers would emerge out of a back door from some inaccessible part of the building, stride onto the stage and give their presentation, and then disappear into the back again.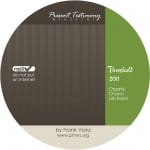 At the latter gathering (Threshold), the speakers sat at the tables with the other brothers and sisters until they stood up to speak, and then after each session they stayed in the room for hours answering questions and encouraging those who wanted to speak with them.
Their accessibility was reflective of the relationship we have with our Lord. They were not distant and fleeting, but they stayed near and were ready to listen and share themselves with us.
There is so much more I want to share about the conference. I'm sure the impact it had on me will spill forth into my writing in the future. For the meantime, I thought I would share these few observations on the two conferences.
Some of you have asked to hear some of the messages from the first three Threshold Events. You can do so by clicking here. If you wish to be on the mailing list to be notified about future events, click here.
If you were in charge of putting together the ideal Christian conference, what would some of its features be?