Most of you are aware that I don't profit from my book sales. As I've explained elsewhere, the money earned from my books is given to the poor and used for ministry expenses. Part of my personal income comes from this blog. And today I can say that I'm a "professional" blogger in that most of my personal income is derived from the blog.
Since this blog is free to read and subscribing is free as well, how do I generate income from the blog?
The answer: from advertising and affiliates.
Specifically, if you look on the right hand side of the blog, you'll see a number of advertisements. Those are all paid ads.
In addition, when someone buys a book that I feature on a book review or on my Top 100 Best Christian Books Ever Written, Amazon gives me a commission. I also receive commissions from other products and services I personally recommend and promote.
Anyway, here are the steps I took to become a professional blogger:
1. Get a reliable, inexpensive hosting service. I recommend BlueHost for this. Most professional bloggers I know use it. You can't go wrong with them. If you already have a blog, I recommend switching over to their hosting service.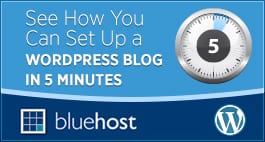 2. Use WordPress for your blogging platform. If you click on this link, I show you how to start a WordPress blog in less than 10 minutes using BlueHost. This covers both #1 and #2.
3. Get a beautiful blog theme. I've used two kinds of themes. The Standard Theme and Studio Press. Studio Press is better in my view and less expensive. Click here to check it out. When you're on the page, click the blue "Shop for Themes" button to see all the awesome themes they carry.
4. Post once a day for a year. I did this all throughout 2012 and it made a huge difference in my traffic.
5. Make most of your posts 800 words or less. You can exceed this sometimes, but don't make it a pattern.
6. Participate in the comments. Be gracious, non-combative and non-defensive when people disagree with you. How you handle disagreements, criticism, and personal attacks are a measure of your spiritual stature. See Three Types of Critics & How to Respond to Them.
7. Moderate comments yourself or have someone else do it. Never approve a comment that slanders another person or trashes them in any way. Your blog must be a safe place for people where civil dialogue is rewarded. If you allow gossip and slander on your site, you devalue your site and you'll lose your smartest readers as a result. (If you're a Christian, giving a platform to the sins of slander and gossip is participating in those sins yourself.)
8.  When your blog gets over 25,000 pageviews per month, start receiving advertisements. In my observation, if you have less than that, it will be difficult getting advertisers. Not impossible, but difficult. So work on building traffic first.
9. Write content that is thoughtful, unique, inspiring, encouraging, and challenging. If you tear others down, you lose credibility and very few people will pay attention to what you have to say. The same if you're constantly lifting yourself up above others. Usually, those who tear others down lift themselves up at the same time. Be encouraging, inspiring, and edifying.
10. Promote others on a regular basis and lead readers to valuable resources. I seek to do this regularly (see the "Reviews" section in the Archives for examples). Because I feature so many authors and books, the blog was rated #4 in the Top 100 Book Related Blogs recently.
11. Make it easy for people to subscribe. For example, you can see my subscribe button on the top right of the blog. You can't miss it. Give them a choice of Email or RSS subscription.
12.  Use social media wisely. Leverage social media to share your posts, but do so without exclusively promoting your own work. See 10 Twitter Mistakes That Make You Look Clueless. You can get by with posting on Facebook about twice a day. For Twitter, 3 to 12 times. But again, make your posts edifying, inspiring, and encouraging. Never abuse the platform (see #9).
While all the above suggestions will not guarantee that you will become a professional blogger, it's how I was able to do it. So at whatever level you are at in your blogging journey, these recommendations can start you on your way. At the very least, they will improve your blog.
BTW, if you're interested in advertising your book, blog, service, or resource on this blog, click the Advertise link for information. We have a number of spots available for the coming month.
If you use affiliates and advertisements on your blog, what tips can you add to the list? And what affiliate programs have you found to be successful?

If you find this post helpful, you are free to ADD A LINK to it on your blog or website. But don't copy and paste the post as this violates Google's guidelines.
Join over 30,000 other readers and receive free blog updates. If you subscribe by
Email
, you will receive my eBook
Rethinking the Will of God
(Revised) and my
Next Reformation Seminar
as a free gift. By subscribing, you also won't miss a post. If you want to start your own blog from scratch in less than 10 minutes,
click here
. And if you're looking for a hosting or domain-name service, I highly recommend
BlueHost
.