Since I officially released my new online discipleship course on September 1st, Living by the Indwelling Life of Christ, it has exploded.
Hundreds of people are getting it already and many are commenting on its impact.
What follows are the questions I've received about the discipleship course and my answers. Remember, it's discounted until October 1st.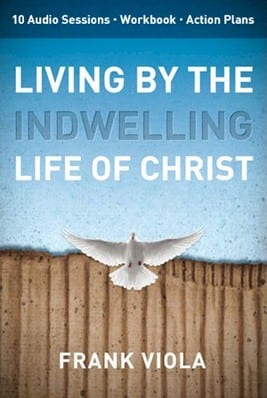 Q. If I get the course, do I have to complete it within a certain time frame?
A. No, you can work through it at your own pace at any time and from any place.
Q. If I get the course today, how long will I have access to it?
A. You will always have access to it. There is no expiration date. So you can start it today and finish it 5 years from now, if you want.
Q. When does the discount run out . . . and will it really run out?
A. Yes. It runs out on October 1st.
Q. I'm a pastor. If I get the Church License, can all of my congregants access the course, and can they do it on their own time or do they have to go through it at the same time?
A. All the members of your church will be given access with the Church License, and they can work through the course at their own pace. Again, there is no expiration date so they will always have access. Even if a church has only 10 members, if they all chip in equally, they will get the course at about half price. If a church or Bible study group has more than 10 people, the price is even better.
Q. I'm married. If I get the course, does my wife have to get her own to go through it?
A. No. By getting the Individual License, your spouse has access to the course also. This doesn't apply to friends, however, only to couples. This is stated on the course page.
Q. Is this course for organic or missional churches only?
A. No way. It's for any individual Christian and it's for any type of church. We have traditional churches, institutional churches, as well as organic churches, simple churches, local men's groups and local Bible studies that are taking the course. If you're a Christian who is interested in making practical Paul's words, "Not I, but Christ lives in me," then this course is for you.
Q. I'm going through the course right now and I'm impressed with the quality of it. The messages are blowing me away. This is meeting a big need in my life and I want my friends to know about it. How can I share it with them?
A. Easy. Just send them the course link - TheDeeperJourney.com - where they can read all about the course, including testimonials and accessing the free samples.
Q. One of the benefits of getting the course is the 15% discount on the next course. What will the next course be about and when will it be available?
A. It will probably either be A Deeper Journey into Ephesians (Ephesians in 3D) or A Deeper Journey into Romans (Romans in 3D). We're not sure yet. But the content will be fresh and creative and it will be in-depth.
Q. I'm half way through the course and I must say that I've never heard that living by the indwelling life of Jesus is the core of discipleship. In fact I've never heard anyone talk about this today. Now I see it so clearly in the Bible. Why is this?
A. Well, you are right in that it's rarely taught today. The reason, I believe, is that most preachers just read and follow the popular contemporary scholars and preachers of our time. So they are merely repeating what they've heard and read. They've not read the authors, both past and present, who have unveiled this critical dimension of the Christian walk.
Q. How long is the course?
A. All together, the course messages are just under 9 hours total. The workbook is 40 pages long and it contains many free audio messages as well. So it contains well over 15 hours of teaching with those added. Again, you can go through the course at your own pace, and it's always available to you.

Q. Can I get the course on CD and is there a physical workbook?
A. No. The audios are all Mp3 downloads, but you can burn them on to CDs, if you like. The workbook is a PDF file, but you can print it out and turn it into a booklet if you want. The beauty of this course is that everything is digital and you can get instant access at anytime. There's no shipping or handling involved.
Q. Before I get it, can I read what other people are saying about the course?
A. Yes, click here to read testimonials from people who heard the messages live when I first gave them. Also, those who have been going through the course so far as saying that they are finding it to be life-changing. A humbling remark, indeed!
Q. Can I get a sample of the course so I know if I want to get it or not?
A. Yes, here are three samples:

Introduction (Epic Jesus) – the course makes this conference message practical.
Session 1 (Living by the Indwelling Life of Christ – Part I)
The Deeper Journey - Part 2
Q. Can I download the audios and put them on my iPod or iPhone?
A. Yes. Once you get the course, you can download each audio session and put them on your smart devices.
Q. Can I pay for the course with credit card?
A. Yes. When you click the payment button, you will be taken to the payment page. At the top, you can use a Paypal account. If you don't have a Paypal account, you can use the bottom option and pay with credit card.
Click the banner below for more information on the course. The course is discounted until October 1st.
If you find this post helpful, you are free to ADD A LINK to it on your blog or website. But don't copy and paste the post as this violates Google's guidelines.
Join over 30,000 other readers and receive free blog updates. If you subscribe by
Email
, you will receive my eBook
Rethinking the Will of God
(Revised) and my
Next Reformation Seminar
as a free gift. By subscribing, you also won't miss a post. If you want to start your own blog from scratch in less than 10 minutes,
click here
. And if you're looking for a hosting or domain-name service, I highly recommend
BlueHost
.