My 75-page response to John MacArthur's Strange Fire is available. This is more than a critique. It's also contains teaching on the Holy Spirit and His gifts.
Click the cover to get a copy in PDF, Mobi (Kindle), and ePub (Nook) formats.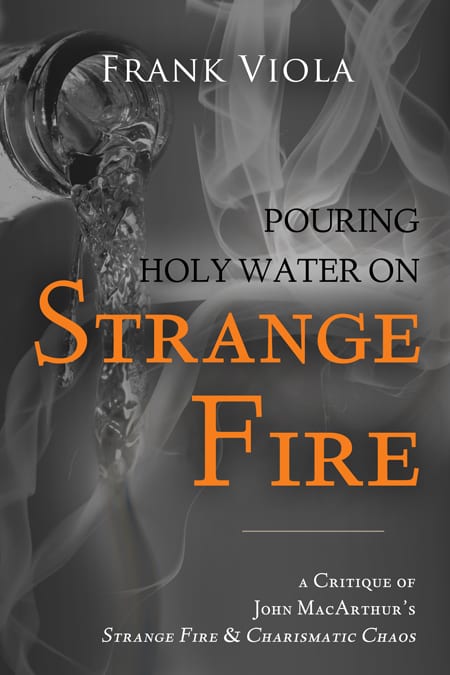 What follows is a review of the book by Thomas Creedy, who I do not know.
I was so impressed with his fair and balanced take on the book that I wanted to share it with you.
The review is followed by an exclusive interview I did on the book on Jose Bosque's newsletter. 
Here's the review:
"Regular readers of this blog will know that I've engaged a bit with John MacArthur's 'Strange Fire' conference recently, in a post being quite critical, and more recently a post looking at what it got right.
Today I'm reviewing a small, new book by Frank Viola that attempts to engage with the conference, the book, and MacArthur's general/previous thinking about Charismaticism.
Coming in at under 80 pages, this is a readable, sensible and helpful introduction to and engagement with MacArthur's misrepresentation of the Charismatic movement, and a call for clarity and careful reading/writing. The 15 short chapters cover some crucial questions; both the currently relevant kind – 'Broken Fellowship over a Peripheral Doctrine' and 'Commending and Criticizing MacArthur's Charismatic Blasting' – and the more timeless kind; 'Does God Still Heal Today?', and so on. Each of these is briefly and carefully dealt with.
Viola notes that what he is writing "is neither a defense nor an apology for the charismatic movement. Like MacArthur, I have found the 'movement' to be flawed in many ways", and is clear that "The charismatic world is certainly not a monolith by any stretch".
He is also helpfully aware of the limitations of his critique, which is refreshing. I particularly enjoyed Viola's robust engagement with MacArthur's critique of Charismaticism from a historical point of view, pointing out the errors in both content and methodology that he makes.
Theologically, it is quite nice to be, as Viola observes (in their critique of cessationism, at least), to be on the same side as minds like N.T. Wright, Ben Witherington, Gordon Fee, Craig Keener, Wayne Grudem and F.F. Bruce…
Viola is careful and comprehesive in this brief book, especially when he engages in questions of biblical theology. He is clear in his engagement with cessationist arguments from 1 Corinthians 13, and his simple observation regarding Jesus' words in Matthew 22:29;
"You are in error because you do not know the Scriptures or the power of God"
"The Scriptures and the power of God. We need both"
One thing I particularly appreciated in this short book was Viola's insistence on the supremacy and priority of Christ, and his call to be centred and focused on Him, rather than peripheral Doctrine.
Having observed that neither experience or knowledge, but relationship with Jesus is key to Christianity, Viola makes an impressive inversion of MacArthurs argument against Charismatic experience: "The bulk of Charismatic Chaos and Strange Fire is built on the spurious experiences that MacArthur has witnessed or read about", rather than the best of Charismatic Christian expression.
There is good engagement, too, with MacArthur's faulty understanding/explanation of Prophecy.
As a member of a Vineyard Church, I was particularly encouraged to see a discussion of 'The Third Wave', as I believe the Vineyard way of doing things can be a brilliantly helpful way of being Charismatic, well. Viola's summary is helpful, and I think accurate.
It flows nicely into a good engagement with the crucial and controversial question of 'Does God Still Heal Today?', noting that 'not everyone is healed today', event whilst acknowledging that "Jesus Christ still heals. And He heals today for the same reasons he healed while he was living on earth".
This is followed by a solid engagement with the false teaching of the Health and Wealth movement, often known as the Prosperity Gospel.
I personally wasn't entirely convinced by Viola's treatment of continuing apostleship, but I must admit to not having worked out what I think, precisely, on that issue.
The penultimate chapter, 'Five Big Questions', is a particularly helpful thinking through of the Gift of Tongues in real-life situations, with a helpful observation that "The classic Pentecostal view holds that tongues is "the initial evidence of the baptism of the Holy Spirit". I disagree with this idea. And so do most continualists".
This, again, is evidence -whether you might agree or not – of Viola'scare and clarity in thinking through this issue, often in contrast to the way MacArthur seems to engage in this debate.
You can probably see that I am torn between summarizing this book, and encouraging you to read it. It is a good, solid, careful engagement, and so if you have been hurt, bemused or just piqued by the #StrangeFire controversy, then I would recommend this little eBook to you.
I hope you enjoyed the review. Until the 18th of November, you can get a pdf of the book for free here, so get on that!
_______________________
Here's the interview:
Jose Bosque: Why do you think John MacArthur wrote Strange Fire?
John MacArthur has written 3 books going back to the 1970s blasting the charismatics. In each book, he increases the vitriolic rhetoric.
In his latest book, Strange Fire, he strongly implies that charismatics aren't true Christians.
I think the reason why he's written this book is because he is tired of seeing all the absurd practices, bizarre antics, gimmicks, and crazy doctrines that some quarters of the charismatic continue to promote. Even when they've been corrected by fellow charismatics authors over the years.
The problem is that MacArthur paints with a gigantic brush and discounts any kind of miraculous or supernatural manifestation as being fraudulent. He also implies that all charismatics are part of the "false church," as he calls it. 
Jose Bosque: Why did you feel compelled to answer him?
I don't write negative critiques. It's just not something I feel burdened to do. However, in the early 90s, a friend of mine broke off fellowship with me and my friends because we believed in spiritual gifts. He had just read MacArthur's Charismatic Chaos, published in 1992, and concluded that we were in deep deception just because we believed in and exercised spiritual gifts.
So I read the book and wrote a long response for the sake of my friend. He was persuaded by my arguments and our fellowship was restored.
When I learned that MacArthur had revised that book under the title Strange Fire, I felt I should revise my early critique and update it with a response to MacArthur's new book and make it available to all Christians.
Some people have said, "you're wasting your time," but I disagree. You see, if one case of broken fellowship can be restored as a result of my critique–as it was in my case in the early 90s–then it was well worth the time to publish the critique. 
Jose Bosque: What do you think is His strongest point is that has the most validity?
MacArthur's criticism that many charismatic people and churches allow for and buy into many false teachings and fraudulent practices is dead-on. But again, this isn't the case for all charismatics. 
Jose Bosque: What is His weakest claim?
That the miraculous gifts of the Spirit passed away in A.D. 70. I disprove this idea in my critique on the basis of church history, Scripture, and experiences that are hard to refute. 
Jose Bosque: Shouldn't our metric be does it produce Christ's Life not whether or not we are Charismatic (Holy Spirit emphasis) or Fundamentalists (Bible Word emphasis)?
Yes. As far as I know, Jesus gave only one metric by which the world would know that we are His disciples. It's that His followers have genuine love for one another.
Love is the DNA and expression of Christ's life. The defining mark of love is that it treats others the same way we want to be treated in every circumstance.
New! Online Discipleship Course. Click the banner below for more information.
Join over
80,000
monthly readers and receive free blog updates. If you subscribe by
Email
, you will receive my eBook
Rethinking the Will of God
(Revised) and my
Next Reformation Seminar
as a free gift. By subscribing, you also won't miss a post. If you want to start your own blog from scratch in less than 10 minutes,
click here
. And if you're looking for a hosting or domain-name service, I highly recommend
BlueHost
.