Some quick background before I make two points.
Last week, I had the privilege of facilitating a mastermind gathering with 12 top-shelf pastors and teachers. The gathering was called MinistryMind 2016. The leaders who attended were incredibly diverse. Men and women came from different parts of the world and represented different theological persuasions.
After our initial dinner together on Wednesday I announced, "For those of you who live outside the USA, there will be a civil war occurring at 9pm and broadcast on television tonight."
I was speaking about the third Presidential debate between Donald Trump and Hillary Clinton.
We then met from morning until evening the following day (Thursday) and then again Friday morning.
Strikingly, there wasn't any time given to the debate or the election. Instead, our instincts led us to converse about the Lord Jesus Christ and His work in our lives and ministries. We were too busy connecting with each other spiritually and sharing the Lord than to descend into a political beat down.
In addition, even though we all represented different theological backgrounds and viewpoints, there was a tangible spirit of unity, mutual upbuilding, reception, encouragement, and help.
Some people described it as "heaven on earth." Others used the word "rich" and "deep" to describe our time together. It was also stated that our gathering trumped (no pun intended!) every Pastors Conference they have ever attended.
Note also that this was the first time we all met one another. So it was a "blind date" of sorts. But by the second day, many said they felt like they were in the presence of family.
What I'm describing are the marks of God's presence.
Two points can be drawn from this story.
1) If you make your center of attention the Lord Jesus Christ, you can know the unity of the Spirit in the bond of peace, despite your political or theological differences.
2) One of the most precious things on earth is connection with others who love the Lord and desire HIM above everything else. (The connections made at MinistryMind continue long after the event.) So if you ever have an opportunity to connect with others who have made Christ their chief pursuit in life, be willing to move heaven and earth to take it.
"How good and pleasant it is when God's people live together in unity!" ~ Psalm 133:1
MinistryMind 2017 – We're Doing It Again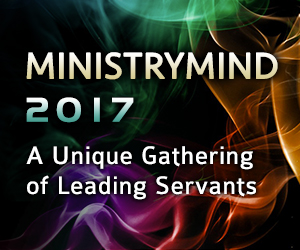 For those of you who are interested, we will be holding another MinistryMind gathering in 2017. Perhaps two of them. Consequently, if you are involved in the ministry of the Word (preaching, exhorting, teaching, etc.), go here for details and join the wait list. Invitations are only sent by email to those on the wait list.