DeVern Fromke is one of the Christians who has had a strong influence on my life. I met Fromke in 1993 and we've kept in touch ever since. Devern Fromke worked with T. Austin-Sparks, the man who has had the greatest influence on my life and ministry. He also spoke in conferences with Stephen Kaung, another mentor and dear friend of mine and a co-worker with Watchman Nee.
Many of you who read this blog and my books are in your 20s and 30s, but not many of you have heard of Fromke or his work.
Hence this post.
It concerns me greatly that I see so little emphasis or understanding today on the deeper things of God. While a number of popular speakers with rock-star followings are fronting three new movements aimed at 20s and 30s, there's very little that's new in those movements.
It's not that these movements are bad or wrong. Nor is it that God isn't using them. I believe He is. It's just that they are missing something essential. Critically essential.
What is lacking is . . .
A groundbreaking unveiling and understanding of God's Eternal Purpose which is His grand mission. And we are not at the center of it. The Eternal Purpose is by Him, through Him, to Him, and for Him. And it's mind-blowingly glorious.
An understanding – both theological and practical – on how to live by the indwelling life of Christ individually and corporately. Without this, we are left to serve God by our own resources and good will, despite our intentions.
A laser focus on the centrality and supremacy of Jesus Christ. (In most of these movements, some "cause" or theological system has trumped Jesus Himself.)
I've addressed these three problems in my own books, namely From Eternity to Here, Magnificent Obsession, God's Favorite Place on Earth, and Jesus Manifesto. However, like T. Austin-Sparks, DeVern Fromke has been a pioneer on restoring these elements dating back to the early 1960s.
These books changed my own life as a young Christian in my 20s, so I recommend them wholeheartedly to every believer.
Ultimate Intention by DeVern Fromke – an incredible presentation of God's Eternal Purpose in Christ. This book is a game-changer.
Unto Full Stature by DeVern Fromke – a powerful and insightful work on spiritual transformation in the Christian life.
Life's Ultimate Privilege by DeVern Fromke – a unique book on prayer that I've found tremendously helpful and inspiring.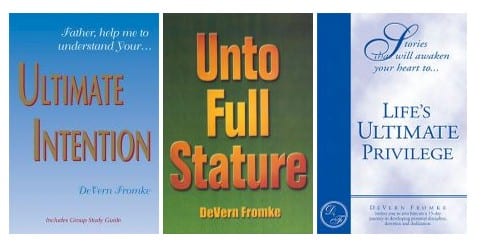 UPDATE: Posted on Frank Viola's Facebook Wall October 29, 2016
One of my mentors has gone to be with the Lord. A treasured spiritual luminary has left this earth. DeVern Fromke is now with God. He was 93.
I met DeVern in 1993 along with Stephen Kaung (disciple of Watchman Nee). Kaung, another mentor to me, is still with us, though I understand he is 100 years old (or close to it). Fromke ministered in conferences with the man who has had the most influence on my life, T. Austin-Sparks — though Sparks left his realm before I ever heard his name. All of these men gave me my foundation in the Eternal Purpose of God. And I still marvel at the depth of revelation whenever I read Sparks.
Since 1993, I've had in-person meetings with Fromke, had him speak in one of my fellowships, kept in touch by phone, letter, email, and in his final days, sent greetings back and forth through mutual friends who lived near him. DeVern was always encouraging to me, especially in my writing. He in turn would always send me his newest titles.
He, along with Kaung and Sparks, were pioneers of God's Ultimate Purpose. I'm grateful for his life and legacy. Beyond everything else, he showed me how to carry the Lord's highest message without being egotistical or high-minded. DeVern was a portrait of the humility of Christ in a gifted vessel.
DeVern left us to be with the Lord yesterday afternoon (Oct. 28th, 2016 at 1:50pm EST). The above photo is of DeVern (left), T. Austin-Sparks (center), and Stephen Kaung (right) taken in 1966 at a conference wherein they all spoke. Giants in the land.
I believe God is doing it again in our generation.